I don't typically make quilts following patterns. Something to do, perhaps, with my inability to show up prepared? I like to procrastinate, to kind of just hope that things will work out, so reading through a quilt pattern with lists of needed items and all those pieces to cut ahead of time always puts me off. I prefer to hope I'll have enough fabric rather than measuring, to hope that when I put the pieces together I'll end up with something I like. Maybe not knowing the outcome keeps it interesting? Or perhaps I secretly enjoy having to improvise when I nearly always end up running out of a key fabric. I have a feeling I could learn a few tricks and shortcuts by following patterns, but being stubborn, I insist on figuring it out on my own (and often taking a convoluted route to get there). Perhaps there's a lesson to be learned here?
I digress…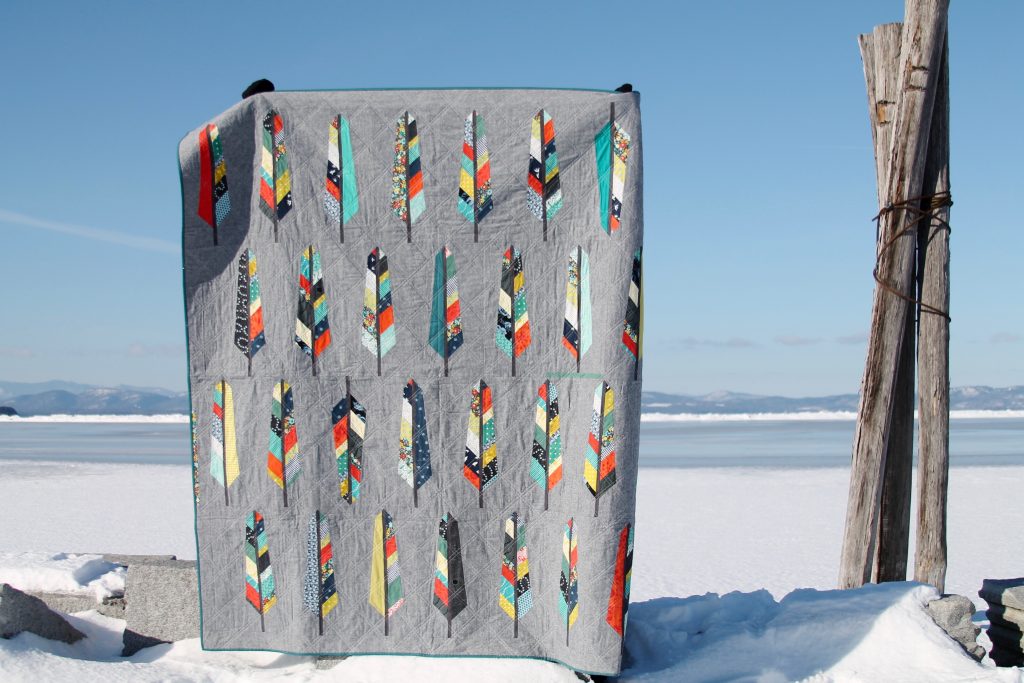 Back to this quilt. This is Anna Maria Horner's free Feather Bed quilt pattern, which I started way back in 2014. I actually enjoyed making this one, despite taking so long to finish it! The feathers come together quite quickly. (I didn't follow the pattern as it was written though, and ended up wasting a bunch of fabric. Lesson learned)
I was going to tell you that the colors were based on that great Liberty of London floral, but I just now read through my old posts about this quilt and discovered that was not the case. I'm not sure how the color scheme came about then, as these colors are not my usual picks — something I found myself thinking as I was quilting it!
I decided to quilt it with double straight lines on the diagonal. I wish there was a faster way to quilt double straight lines… I love the look, but hate that it takes twice as long!
We went down to the waterfront last weekend to try to get some photos. I didn't realize that the lake was partially frozen (some years it freezes, sometimes it does not), so I was surprised to see a few people out there skating. I called out to ask how thick the ice was and they replied nonchalantly "oh, about 3 inches". I don't know about you, but that just doesn't seem thick enough for me! (Maybe it is, maybe it isn't… I just know that I don't want to take a chance!)
So despite my love of ice photos (here, here and here and here on solid ice), I opted for 'in front of the ice' photos for this one. No one wants to fall into ice cold lake water in February.